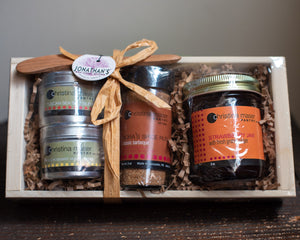 About This Item:

A seriously stocked wooden crate of some of our favorite pantry items. A little bit sweet, a little bit salty, and a whole lot delicious.
This Gift Set Contains:
This set has two available varieties. One contains our Southwest Spice Rub, the other contains our BBQ rub. Please select your preferred option.
1 Tuscan Sea Salt Blend
1 Citrus & Rosemary Sea Salt Blend
1 Southwest Spice Rub or BBQ Spice Rub
1 Strawberry Ginger Jam
Handcrafted Wild Cherry Wood Spreader by Jonathan's Spoons
To Send as a Gift:
Simply adjust the shipping address at checkout. Add a custom message In the Notes section at checkout and we'll make sure it's included in the package.