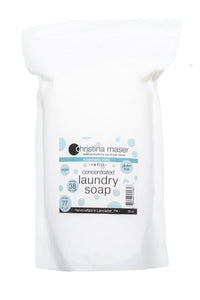 About this Product:
This reusable glass jar contains 28 oz. of ultra-concentrated laundry soap. That's enough for 38 regular or 77 HE* loads of wash. This ultra-concentrated, color safe soap is made by powdering coconut oil soap with earth friendly cleaning aids.
This is a great alternative to "baby" brand washing detergents. Absolutely safe for your diapers and everything baby related. 
How to Use:
Add 1 tablespoon to running water. Please note that there will be variances in the soap "crumbles" as this product is made with human hands. Before first use, give it a good shake and mix it up. Do not use on silk. Do not mix with chlorine bleach.
Our Formula:
Vegan, gluten free, earth friendly, sulfate free, phosphate free, and paraben free.
Ingredients: Laundry soap (coconut oil, water, and lye), oxygen bleach, sodium bicarbonate, washing soda, pure essential oils (unless unscented)
Subscription Information:
Never run out of your favorite laundry soap again!
Subscribe here to receive our jar size for your first order, and refill sizes in your following order.
Save 15% on this and all future laundry subscription orders.
Pause, change your renewal date, or cancel any time.
Out of your favorite candle? Add any one time item(s) to any subscription renewal order.
*Our small company does not have the official "HE Safe" approval stamp, but we have tested it ourselves with success in HE machines.
Customer Reviews
01/03/2021
Patriciaa G.

United States
Sustainable container and powder smells wonderful!
I love that the laundry detergent is refillable and eliminates the plastic waste of other products. The powder smells great, is easy to dispense and dissolves thoroughly! Laundry smells fresh and is perfectly clean!
01/12/2021
Christina Maser Co.
We're so glad to hear that you're happy with the Laundry Soap! Thank you for your kind words.
Best detergent!
I love this laundry detergent! It smells light and fresh. It washes well and rinses clean. I love that it's vegan and low waste too.