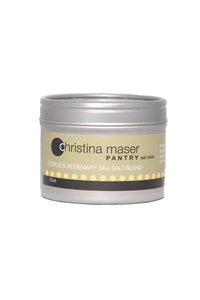 About:
2020 International Flave Award Winner.
A blend of rosemary, dried citrus rinds, and sea salt. This will quickly become your salt of choice for just about everything. We dry both herbs and zest on site. Great on meats, poultry, fish, and vegetables - you name it!
How to Use:
2.75 oz. tin. Use as you would any other salt. Our Citrus & Rosemary blend is especially good on chicken, potatoes, and just about every veggie under the sun. Please reuse or recycle container when finished.

Our Recipe:
Vegan and Gluten Free.

Ingredients: Sea salt, sustainably grown rosemary, fresh citrus zest (lemon, lime and orange), fresh ground peppercorn
Customer Reviews
12/03/2020
Deborah H.
United States
Tasty!
This is my favorite blend. I use it in chicken, pork chops, fish and veggies!!