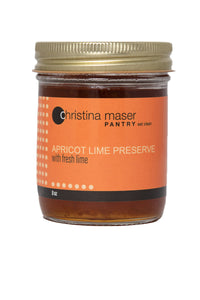 About:
Sweet and tart, our Apricot Lime Preserve is full of fresh, fruity flavor.

How to Use:
All of our jams are great on everything from basic bread and beyond -- serve with cheese (as simple as cream cheese or as elaborate as brie); brush on chicken, fish, or pork for grilling; or use in any baking recipe that calls for jam. 8 oz. glass jar. Please reuse or recycle your jar when finished.
Our Recipe:
Made with only the freshest, ripest fruit. We work with each fruit as it comes into season in our area. In June we're making strawberry jams, and by late August, we are starting on the peaches. All fruit and peppers are purchased from local, Lancaster County, PA farmers. All herbs are either grown on-premise or purchased from local farmers that we know and trust. All citrus ingredients are derived from fresh fruit.
Ingredients: Organic sugar, sustainably grown apricots, pectin, fresh lime juice & zest