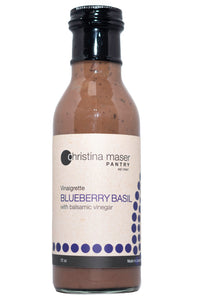 About:
A tasty vinaigrette made from our very own Blueberry Jam and fresh, homegrown basil.

How to Use:
12 oz. glass bottle. Use as the perfect salad dressing, or switch it up and use as a marinade for your favorite proteins are a sauté sauce. Please reuse or recycle container when finished.
Our Recipe:
Vegan and Gluten Free.

Ingredients: Balsamic vinegar, olive oil, grapeseed oil, blueberry basil jam (blueberries, organic sugar, pectin, fresh basil, fresh lemon juice, lemon zest), dijon mustard (apple cider vinegar, water, mustard seed, salt & spices), fresh garlic, sea salt