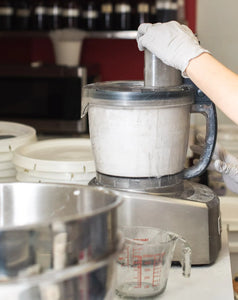 This bulk bag contains enough laundry soap for 546 HE loads (or 273 loads in older style machines). 
This is a great alternative to "baby" brand washing detergents. Absolutely safe for your diapers and everything baby related.
How to Use:
Add 1 tablespoon or 1 wooden scoop (included with each glass jar) to running water. Please note that there will be variances in the soap "crumbles" as this product is made with human hands. Before first use, give it a good shake and mix it up. Do not use on silk. Do not mix with chlorine bleach.
Our Formula:
Vegan, gluten free, earth friendly, sulfate free, phosphate free, and paraben free.
Ingredients: Laundry soap (coconut oil, water, and lye), oxygen bleach, sodium bicarbonate, washing soda, pure essential oils (unless unscented)