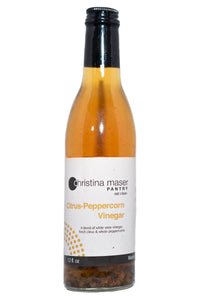 About:
A citrusy, peppery vinegar perfect for all of your cooking applications. Vinegar is commonly used to balance out creamy, heavy, oily, and sweet flavors. Made from fresh oranges squeezed in house.

How to Use:
12 oz. glass bottle. Use as you would any vinegar: pan sauces, marinades, vinaigrettes, quick pickles, pie crusts, and even desserts. The possibilities are endless! Please reuse or recycle container when finished.

Our Recipe:
Vegan and Gluten Free.

Ingredients: imported wine vinegar, fresh juice from oranges, fresh orange rind, whole rainbow peppercorns