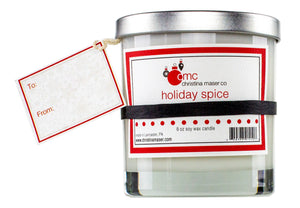 About:
The Holiday Candle you've been waiting for. We created this special edition 8 oz. tumbler to make your holiday gifting extra easy. This candle features a clear glass, reusable tumbler, silver metal lid, clean white label, and blank to:/from: gift tag for your convenience.
How to Use:
Light using a stick lighter or match. Put out with a candle extinguisher. Trim wick as needed. Approximate burn time: 55+ hours. Please reuse or recycle containers. To remove leftover wax, place vessel in freezer for at least an hour. Pop wax out using the handle end of a spoon.
Our Formula:
All of our candles are handmade with natural soy wax, cotton and paper cored wicks, and scented with pure essential oils and natural based fragrance oils. All of our candles are poured by hand in small batches. The glass containers and metal tins can be reused or recycled when empty.
Shop all Soy Wax Candles by Christina Maser Co.
**this holiday scent is available October - January, or as long as supplies last.