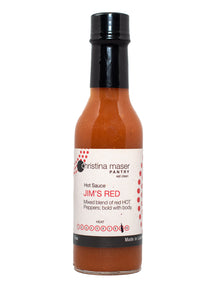 About:
Our hottest sauce. Jim's Red hot sauce is the perfect blend of flavor and heat. Made with a premium blend of sustainably and locally-grown mixed red hot peppers that add a kick of heat and a whole lot of flavor to your favorite foods. This hot sauce is sure to deliver flavor with fire.
How to Use:
5 oz. glass bottle. Spice up taco night, brunch, a big batch of chili, or customize the heat level of your favorite salsa. So good you might just dab onto tortilla chips. Please reuse or recycle container when finished.
Our Recipe:
Vegan and Gluten Free.

Ingredients: Sustainably grown local mixed variety hot peppers, organic apple cider vinegar, lime juice, fresh garlic, garlic powder, dry, sea salt