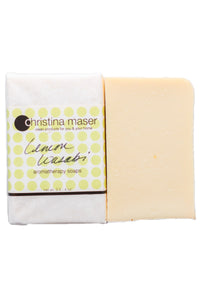 About:
A classic bar soap lightly scented with lemon and wasabi.
How to Use:
Each bar is approximately 4 oz. Lather generously on hands or a clean, damp wash cloth. Appropriate for all skin types. Not intended for facial use.

Our Recipe:
All of our soaps are processed entirely by hand from start to finish. From measuring ingredients to putting the labels on the jars and bars, it's all done by hand. All of our soaps are made from vegan, food-grade oils and all-natural ingredients. Because our soaps are entirely hand made, please note there may be slight variations in shape, size, and color from bar to bar.
Ingredients: Saponified vegetable oils (olive, palm, coconut, sweet almond, castor), natural clays, herbs, grains, petals, seeds and/or mineral pigments, and pure essential oils.