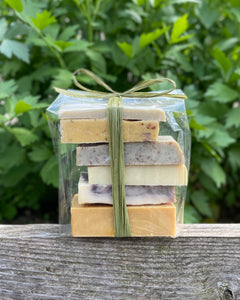 About:
Can't pick just one bar of soap? Enjoy an assortment of our signature bars in a neatly tied bulk bag. Soap by the Pound makes an excellent gift.
How to Use:
Each bag weighs approximately one pound. Lather generously on hands or a clean, damp wash cloth. Appropriate for all skin types. Not intended for facial use.

To use as potpourri, place bars in a small linen or cotton pouch. Place in any drawer, closet, or vehicle that could use freshening up. Soap can also be easily chopped with a sharp knife and placed in a pretty ceramic or glass dish as unique decor and aromatherapy.
Please note, specific bars cannot be requested. Bar sizes may vary from sample size to full size. Soap by the pound bags may contain both vegan and vegetarian bar soaps. Our vegetarian bars may contain locally sourced goats milk and/or locally sourced honey.
Our Recipe:
All of our soaps are processed entirely by hand from start to finish. From measuring ingredients to putting the labels on the jars and bars, it's all done by hand. All of our soaps are made from vegan, food-grade oils and all-natural ingredients. Because our soaps are entirely hand made, please note there may be slight variations in shape, size, and color from bar to bar.
Ingredients: Saponified vegetable oils (olive, palm, coconut, sweet almond, castor), natural clays, herbs, grains, petals, seeds and/or mineral pigments, and pure essential oils.
Customer Reviews
Soap
Love the variety that you get in this pack of these fantastic soaps !
01/19/2023
Karen W.

United States
Natural soap's beautifully done
Beautifully packaged and terrific smelling natural soaps! The best locally made products around!
06/28/2022
Charlene N.

United States
Triple Love
My friend LOVED her gifts. Excellent product, good communication. Many thanks.