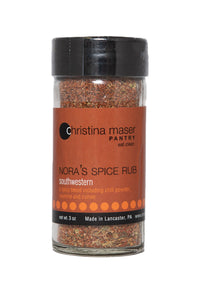 About:
Packed with flavor and a little bit of heat. Add seasoning to ground meat for tacos, or to chicken and shrimp.
How to Use:
3 oz. glass jar. Use as you would any other spice rub. We recommend starting with about 2 teaspoons per pound of protein, and a little bit less for veggies. Please reuse or recycle container when finished.
Our Recipe:
Vegan and Gluten Free.
Ingredients: Sea salt, brown sugar, black pepper, chili powder, oregano, paprika, dried thyme, cayenne pepper, coriander, cumin